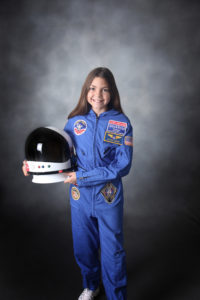 Name: Alyssa Carson
Age: 13
I live in: Louisiana, USA
How did the dream to visit Mars begin?
Watching a kids' show at age 3 and they were doing an adventure on Mars. It sparked my interest and it became my passion to go to Mars and be part of the Mars Generation.
What special skills are you learning to help you achieve your dream?
I attend different space camps around the world to do real life astronaut training on missions and in simulators. I am starting to work on my scuba diving, pilot's license and do sky-diving…And I study a lot of math and science.
Going to Mars is a big, big dream. Does it ever scare you?
No, it is something I feel that we as human race must to do for our survival. The benefits outweigh the risks.
Who is the most inspirational person you've met so far and why?
Astronaut Sandra Magnus because I met her at a very young age and she told me that she too had dreamed of being an astronaut since she was 9, so I knew that if she could do it, I could too.
What is the most difficult part about going for your dream?
The intense studying and training that will only get harder as I get closer to going to Mars.
What is the most important lesson this dream is teaching you?
You can find your dream and if you have the passion and desire for it, you can accomplish it. Never let anyone take your dream away from you.
What is your advice to other girls to achieve their own dreams?
Find subjects that you really love in school and then find careers that match with those subjects. Find the thing that you would most love to do and make that your dream. Stay focused and never give up. Remember if you love what you do then you will never work a day in your life. We are now all part of the Mars Generation and even though you might not want to go to space, you are all still part of our world coming together as the human race for our survival. You are all part of the Mars Team. We Are the Mars Generation!